In the last few weeks the focus has been almost exclusively on Australian politics. It seems that most notable other news has disappeared to the back pages of the papers and last 30 seconds of the news.
One such item that fell of most people's radar is how busy we've all been saving the pennies (or cents). In fact we've all become so good at saving that Australians are now wealthier than ever before.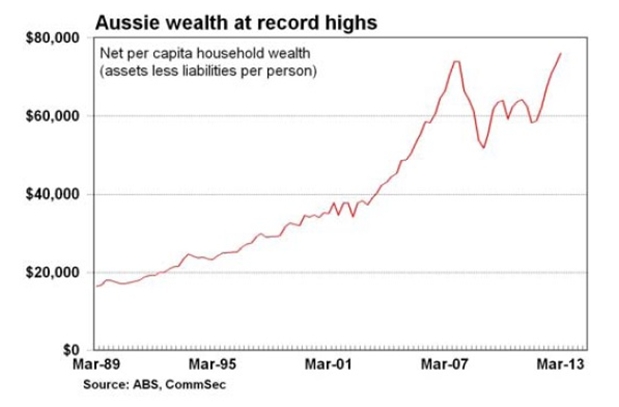 The last months have shown a strong jump in the net financial wealth of Australians, even eclipsing the last peak around March 2007 just before the GFC hit, as shown.
"The latest data on household wealth certainly provides Aussie households with a bit of cheer and could not come at a better time, especially given the underlying level of conservatism." explained CommSec economist, Savanth Sebastian, and continues:
"The global financial crisis caused the biggest ever drop in wealth for Australian households, however wealth levels have continued to repair over past couple of years and are now back at record highs.
The sustained improvement in wealth levels and low interest rate environment has resulted in household tentatively starting to spend.
The improvement in household balance sheets certainly bodes well for future spending.
And given that a low interest rate environment is likely to be part of the economic landscape over the coming year, it may prompt consumers to invest in other asset classes and spend a little bit more freely."
While around 22% of our 'wealth' is held in cash or deposits, loans for property investment has also increased steadily for the last nine months, reaching just over $7billion in April 2013.
This is also reflected in the tangible increase in investor activity in the Brisbane CBD and other Australian property markets over the last months.
(Source: Property Observer article "Australian household wealth rises to record levels with an improving appetite to spend")