It's unusual for weekly rents to outstrip housing price growth, however we're currently at the end of such a cycle.
Even more interesting, from an investor's view, is the performance of the gross rental growth over time, and this has been steadily increasing over the last years, as shown in the diagram.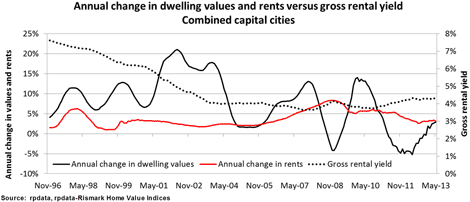 The situation gets even more interesting when comparing the capital cities, and it's here that Brisbane is a strong performer – ranked 3rd highest for house rental growth and 2nd for units.
The prognosis is positive for rental growth. "While I doubt we will see capital city yields return to the highs last recorded in the 90's, it is reasonable to presume we will see ongoing improvements in the yield environment across the Australian housing market.", explained RPData's National Research Director, Tim Lawless.
How could this affect investor focus?
"Previously many investors were buying purely for capital gain prospects without a great deal of focus on the yield potential. While capital gains are going to be the main strategy for the majority of investors, I wouldn't be surprised if we see an ongoing focus on the rental side of the equation.", concluded Tim Lawless.