Sweeping new changes to the credit ratings system were introduced on March 12, so, how does this affect you?
Many more details of credit, loans, credit card and account payments are now available to lending institutions - it's not just the bad, but also the good that's recorded.
The new Comprehensive Credit System (CCR) gives a far more balanced look at the consumer's whole payment history such as: when an account was opened/closed; credit limits, types of credit accounts, details of credit account payments incl. how often bills are paid on time. This is only recorded for Australian credits and not on foreign credit information.
"This should be seen as a positive by people with a good credit rating, looking to borrow but also something to keep in mind for existing mortgage holders," explained Robert Projeski, director of Australian Mortgage Options.
"Previously credit reports had identified negative details, defaults and bankruptcies. Now lenders will have a real indication on how good a consumer is when it comes to their financial affairs. If you are behind on repayments this information will be more transparent and this can affect your standing when you apply for credit.".
A credit 'default' is recorded if a bill of more than $150 is more than 60 days overdue. "If you miss a repayment by more than five days that will be marked on your file under the new system. However a default is not marked just because you missed a repayment", explained Belinda Diprose, marketing manager of Veda credit reporting agency.
What do I need to consider?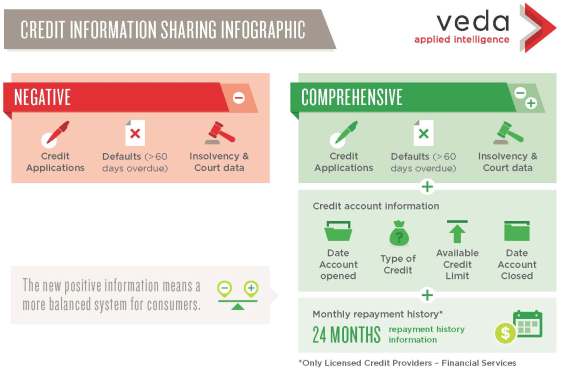 Source: Veda
Top tips for managing your credit rating*:
Set up direct debits to ensure bills are paid on time
Schedule loan repayments for payday
Keep track of credit commitments and only apply for credit when you really need it
Credit includes things like store finance so don't neglect payments on your fridge or car
Close any accounts you don't need
Get your bills via email and flag them to make sure they're paid on time
If you're having trouble meeting payments, ask for an extension or negotiate new terms
Get a copy of your credit report so you know where you stand
"A good credit history makes you more attractive to credit providers ... It's a really important piece of that lending decision so you can get the credit you want," Ms Diprose concluded.
More detailed information and examples here.
* according to Veda.com.au
(Source: Veda.com.au, Property Observer; Louise Moeller - HS Brisbane Property marketing consultant)